"A heady and often astonishing survey of recent discoveries from the "more-than-human" world... Spanning millenniums, continents and academic disciplines, the scope of Bridle's curiosity and comprehension is immense."
-New York Times
"In this book, Bridle has created a new way of thinking about our world, about being. How would we live our lives and change our world if we embraced this thinking? If we did not place ourselves at the center of everything? Please read this important book. Read it twice. Talk about it. Tell everyone you know."
-The Washington Post
---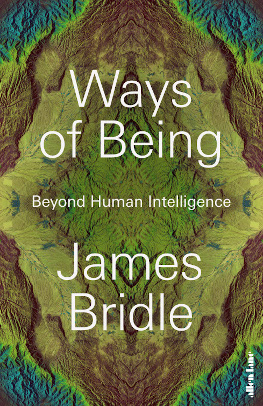 Ways of Being, a book about AI, non-human intelligence, ecology, biological computing, more-than-human relations, and much else, was published by Penguin Books (Allen Lane) in the UK in April 2022 and Farrar, Strauss, Giroux in the US in June 2022. It has been translated into multiple languages.
→ Buy the UK edition
→ Buy the US edition
→ Listen to the Audiobook read by the author
"In humanity's race to course-correct against environmental and technological disaster, Ways of Being is essential listening." - an Audible Audiobook of the Year 2022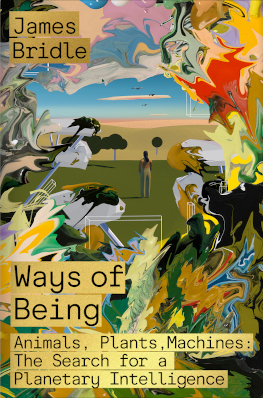 What does it mean to be intelligent? Is it something unique to humans - or do we share it with other beings?
Recent years have seen rapid advances in 'artificial' intelligence, which increasingly appears to be something stranger than we ever imagined. At the same time, we are becoming more aware of the other intelligences which have been with us all along, unrecognized. These other beings are the animals, plants, and natural systems that surround us, and are slowly revealing their complexity and knowledge - just as the new technologies we've built are threatening to cause their extinction, and ours.
In Ways of Being, writer and artist James Bridle considers the fascinating, uncanny and multiple ways of existing on earth. What can we learn from these other forms of intelligence and personhood, and how can we change our societies to live more equitably with one another and the non-human world? From Greek oracles to octopuses, forests to satellites, Bridle tells a radical new story about ecology, technology and intelligence. We must, they argue, expand our definition of these terms to build a meaningful and free relationship with the non-human, one based on solidarity and cognitive diversity. We have so much to learn, and many worlds to gain.
---
"James Bridle encourages you to widen the boundaries of your understanding, to contemplate the innate intelligence that animates the life force of octopuses and honeybees as well as apes and elephants. We humans are not alone in having a sense of community, a sense of fun, a sense of wonder and awe at the beauty of nature. Be prepared to re-evaluate your relationship with the amazing life forms with whom we share the planet. Fascinating, innovative and thought provoking. I thoroughly recommend Ways of Being."
—Dr. Jane Goodall, DBE, Founder of the Jane Goodall Institute & UN Messenger of Peace
"There's a new breed of thinkers - people who've grown up through the collapse of an old order and are looking at the first shoots of a very different future. James Bridle is right at the front of this thinking. His writing weaves cultural threads that aren't usually seen together, and the resulting tapestry is iridescently original, deeply disorientating and yet somehow radically hopeful. The only futures that are viable will probably feel like that. This is a pretty amazing book, worth reading and rereading."
—Brian Eno
"A profound and elegant exploration of nonhuman intelligence that unfurls a wider, more expansive notion of thought itself. Bridle's view of the mind, embedded in a more thoughtful world, is a revelation."
—Alexandra Kleeman, author of Something New Under the Sun
"James Bridle's wonderful book will make you feel and think the power of knowing how like all other lifeforms we are. There is nothing more important."
—Timothy Morton, author of Hyperobjects, Dark Ecology, and Humankind
"James Bridle's brilliant Ways of Being shows the importance of listening to one another and our surroundings, and creating new forms of community."
—Hans Ulrich Obrist
"The conversation unfolding in these pages is fundamentally important and I would go so far as recommending it to absolutely everyone who wants to really think and reimagine a future that remains ours to make. [Bridle's] brave reflections on the power of harnessing new understanding of biological forces and approaching the world not seeking answers to questions we arrogantly pose, but instead humbly observing what life itself might suggest as both questions for us and answers to questions as yet unformed left me awed by the potential. James Bridle hasn't so much written a book, as a Manifesto for a new Green Enlightenment."
—Tim Smit, co-founder of The Eden Project
"Ways of Being is astonishing in its breadth, the cross-disciplinary range of James' explorations... This is one of those books that, reading it, you cans wear you can feel the electricity tingling across your brain."
—Robin Sloan, author of Sourdough and Mr. Penumbra's 24-Hour Bookstore
"In James Bridle's glittering and mind-bending book, he takes our perspectives on intelligence and the 'more-than-human-world' further still... I defy anyone to read it and go for a walk through a forest, or a swim through kelp, and look at the intelligence around them as they did before."
—Tom Mustill, author of How to Speak Whale
---
"In his survey of the intelligence of plants, animals, and artificial intelligence, [James Bridle] synthesizes an impressive range of contemporary scientific research while also drawing on Indigenous and non-Western ways of knowing that have long recognized the significance of nonhuman modes of thinking . . . [Ways of Being] makes a remarkably compelling case for the universality of reason, the benefits to be reaped by acknowledging it, and the urgent need to do so given the reality of looming ecological collapse . . . A provocative, profoundly insightful consideration of forms of reason and their relevance to our shared future."
—Kirkus Reviews (starred review)
"A human-centric notion of intelligence takes the backseat in this fascinating survey from artist Bridle [...] This enlightening account will give readers a new perspective on their place in the world."
—Publisher's Weekly
"In making clear the patience, imagination and humility required to better know and protect other forms of intelligence on Earth, Bridle has made an admirable contribution to the dawning interspecies age"
—The Economist
"It is impossible not to be enthused by James Bridle's epic vision of a future in which digital technology is repurposed to reconcile a blinkered, supremacist human intelligence with the "more-than-human" aptitudes of animals and plants."
—Morning Star
"James Bridle is an artist who is fascinated by technology – creating a homemade self-driving car to understand how AIs "think", for example – and I loved their book, which looks at artificial and animal intelligence, and how those challenge our assumptions about the world. Come for the slime mould replicating the Tokyo subway system, stay for the non-binary computer that used water to model the British economy."
---
Extracts:
Press and Reviews:
Interviews and Podcasts: